Friday, August 20, 2004

he's angry. he's bitter. he's best. he's Damore! everyone's favorite retired blogger was persuaded by your Uncle Grambo to compose another of his patented No Buzz lists, and i'm sure that you'll find the results side splittingly robvs. enjoy!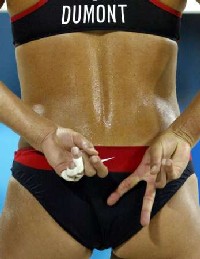 No Buzz — 8/20/04

By Damore

5) Summer Olympics — the US mens basketball team is filled w/ mostly nba b-listers such as wade, anthony, odom, etc. who wants to watch twelve millionaires struggle to grind it out against the Franzferdistan national team? not me thank you very much. i was very high on the olympics upon hearing the name of US olympian Misty May. i thought that womens' porn beach volleyball had been added to the less than stellar events. tees revealed, really? nope, it was just normal beach volleyball SANS buzz. mens gymnastics--worst ever. womens gymnastics--it was good watching in high school/college when the girls were actually hott & weren't suspected trannies & 12 year old romanian boys. no buzz.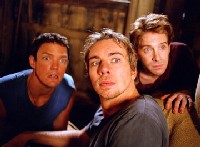 4) Without a Paddle — features pseudo stars seth green, dax shepard, & the always despisable matthew lillard. lillard re-sparks his aborted career of portraying shaggy by playing in the woods w/ 4 douchebags SANS clothes in this hilariously unfunny summer flick. i'd rather rent "sister act 2" & watch for 3 days straight. dax was probably the only funny thing on "punk'd", just shows you how little buzz even ashton kutcher buys you these days. too bad his big screen debut (?) is in a crappy movie like this especially since he's fresh off lafayette coney buzz in the D. sad & puzzling.

3) Exorcist: The Beginning — - the original is easily the 3rd greatest horror movie of all time ("corpses"=#1, "wrong turn"=#2---duhvs). certain movies are so good that any sequels/prequels should be made punishable by a catapulting into a window factory, say wallside windows. like "caddy shack", "die hard", "2001", the sequel movies that followed were TERRIBLE. i tried watching "the exorcist" collected works but the story was fresh out of buzz. this movie could be even worse than 10 "catwoman" pre/sequels. on second thought, no, nothing's that bad.


2) Anacondas: The Hunt for the Last Back Alley — 1st off, how bad does a movie sequel have to be that even j-lo won't do it? 2nd, is pluralizing the title really that clever? well the 1st one only had one anaconda, so we'll have 2 in the sequel...anacondaS. genius. no ice cube +no kari wuhrer tees=no buzz=no damore in the seats. hollywood must only be making shitty movies this year. is it the odd or even years when they make two good ones? the premise is this ... pfizer sends some egghead types to franzferdistan looking for some flower to cure aging. big snakes are revealed, many die, no one cares, the end. and then there's the cast: Johnny Messner, Morris Chestnut, Eugene Byrd, Nicholas Hope, Peter Curtis. sounds like a bunch of dudes, w/ no chance of any tees being revealed, like not even national geographic tees! WORST! the sealer: gp-13 ... no buzz indeed.


1) Handjobs — i mean really, is there anything worse? it's the ultimate slap to the face. you almost want to sarcastically say, "thanks, i'll just do it myself", then you realize it's still better than nothing. inflated sense of pride ... fading ... fading ... worst.

posted by uncle grambo |
---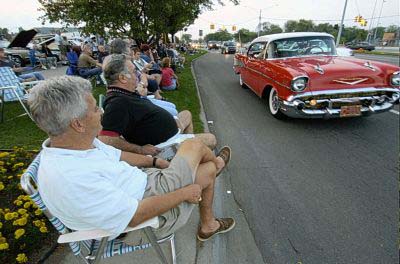 hey douchebag! yeah you, the one driving the raggedy ass 1970 Plymouth Challenger with rust spots the size of Kirstie Alley's ass. why don't you take your delusional fantasies that chicks still find you attractive back to Taylortucky and let me drive down Woodward Avenue in peace, you washed-up grease monkey! and don't think that I'm letting you slide, fat ass family of four sitting on lawn chairs in the parking lot of the Redcoat Tavern! hope you enjoy choking on all that exhaust coming out of my SUV! Dream Cruise. gag me with a spizz. some say a weekend that will forever live in infamy. makes me ashamed to be a Michigander. almost.

only one word is sufficient to describe the news that teachers are incorporating blogs into the classroom ... DURST! i was kinda banking on the fact that the rampant self-absorption involved with compulsively posting your personal opinions on pop culture minutae on The Internerd™ was limited to those born between the years 1970 and 1984. apparently your Uncle Grambo was wrong, which doesn't bode well for our society. maybe I'll stow away on Johnny Depp's private plane the next time he visits the States and settle down with him and Vanessa in the French countryside. l'obvs!

i know that it's not exactly "worldly" to take your art cues from "Ferris Bueller's Day Off", but ever since Cameron stood in awe of George Seurat's "A Sunday on La Grande Jatte ó 1884" to the strains of "Please Please Please Let Me Get What I Want", i knew that i had found my favorite painting. during my very first voyage to Chicago (circa 1993), i excused myself from the posse that I was rolling with and went down to the Art Institute of Chicago to check it out for myself; not surprisingly, your Uncle Grambo discovered it was even more impressive in person. in the ensuing years that have included trips to some of the world's foremost art museums, i've yet to encounter a piece that moved me as much. in an article by Holland Cotter that appears in today's NYT, the famed painting's history and origins are discussed. BEST!

best record review ever? check out The Grizz's complete dismissal of the new Ryan Cabrera jawn in today's DetNews:

Itís easy to attack Ryan Cabrera, the Ashlee Simpson boy toy with the ridiculous Yu-Gi-Oh! haircut, but itís much easier to let his music speak for itself. On his debut album, the Texas nativeís descriptions of heartache reads like a hypochondriacís list of serious medical ailments; he complains about having trouble breathing on no less than four tracks and sings of being lost on two, before finally conceding "Iím running out of time!" on "Blind Sight." Save it, dude, you thank "Jess and Nick" in your liner notes. Along the way, Cabrera musters up all the soul of a Coke commercial and manages to make Jason Mraz look like Bob Dylan. Hey Ryan, "Take It All Away" - and keep it there.



as long as we're talking about The Grizz, I gotta throw more props his way for this line that leads off his review Shyne's latest LP: "A lot of rappers talk about guns, but few actually shoot them in crowded New York nightclubs when theyíre rolling with an entourage that includes Puffy and J. Lo."


your Uncle Grambo isn't normally what one would call a proponent of Hillary Duff, but even I gotsta admit she looks pretty dope in this snap from Blender. looks like she's been cutting the carbs, yo. your Uncle approves. natch.


big ups to J. Co (aka Foxy Jazzercise Blueprint Buzz) for what has turned out to be an AWESOME first week behind the wheel at Gawker. congrats, babe!


looks like Tommy Cruise finally found himself a stoolie that he can push around on the set of "MI:3" ... JJ Abrams has signed on to direct this highly troubled production. since its inception, this project has already seen both David Fincher and Joe Carnahan resign due to "creative differences" with TC. nothing like hiring the guy who came up with the idea for "Felicity" to helm a $200 million action epic! what, was the creator of "Roswell" busy? shmears.


Cover art for Luna's next album revealed! "Rendezvous" is set for release on Jetset Records on October 26th. [via Chrome Waves]


Jigga and Kells will tour together this fall. hott, some say this tour is two years overdue. when asked for comment, R. Kells replied with this statement: "We want to blow up the world!" then J-Hov chipped in with "We want people to be genuinely shocked and awed, we're on a shock-and-awe campaign." nothing like holding a press conference in 2004 that resets an album that dropped in 2002 with a reset from March 2003. bovs.


UPDATE (1:20pm): hey MoveOn.org, SUCK IT! specifically you, Eli Pariser. i just received an email from your punk ass organization that began thusly: "When we announced a presale for Vote for Change tickets, we never imagined we'd see this kind of response. With far more folks interested than tickets to offer, we've picked people at random from among you to receive access codes and buy pre-sale tickets. And unfortunately, we didn't pick you." r-r-r-r-real nice attitude, you jackanapes! how's this for a retort ... unfortunately, i'm not going to give your lousy PAC any of my hard-earned money! while i'm still gonna try and snag me some Springsteen tix tomorrow morning, I'm not gonna be happy about the proceeds going to a buncha effing back alley tourists! after getting a note like this, I'd rather give money to Chris Martin and Make Trade Durst! worst!

posted by uncle grambo |
---
Thursday, August 19, 2004

it's no secret that your Uncle Grambo is ALL about the periodicals, baby. if you were to add up the cost of my subscription and newsstand purchases, I have to believe that I spend close to $50 a month on magazines. over the years, one issue has emerged as my favorite annual treat, Entertainment Weekly's Fall Movie Preview. so comprehensive! so entertaining! so best! when this issue arrived on my mailbox on Saturday afternoon, I was prepping for the big Friggs / LesCal wedding and I didn't have time to fully dive into the hottness. and while I'm still pawing my way through this issue, a quick flip-through revealed two movies that I'm REALLY geeched to see this fall: David O. Russell's "I Heart Huckabees" and Wes Anderson's "The Life Aquatic With Steve Zissou." both, coincidentally, had their trailers debut online in the last day or so. check 'em out, yo. but if you're on the lookout for a sleeper, look no further than "Shaun Of The Dead" ... how come it took this long for someone to make a movie that combined romance and zombies?


BREAKING RUMOUR! sources in LA tell me that Britney Spears is getting married as early as today! durst. not to be a prude, but considering her Love Rat Fiancé has already put a dildo in her mouth, I'm not quite sure that marriage holds the same sanctity it once did, now does it? just get married so MTV can start rolling tape. [second item via Scott Stereogum]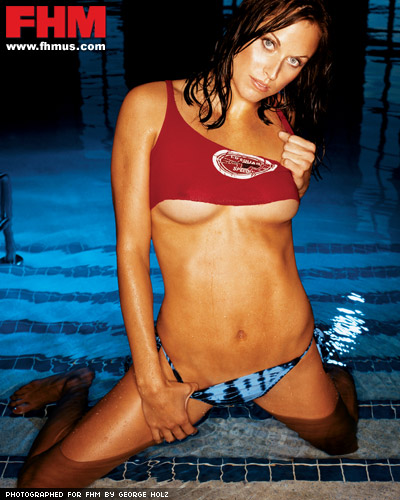 I don't think I'm alone when I say that the 2004 Olympics have no buzz. not sure about where you live, but the local media here is giving more coverage to the Detroit Lions training camp than they are to the Olympics. your Uncle Grambo has two suggestions that are GUARANTEED to improve ratings, yo:
1) More or less Amanda Beard — More coverage, less clothing. Best Amanda since Bynes?
2) Hire Hanna and / or Barbera to produce the next games — Rumour has it that they'e both dead, but damn if they didn't have some great ideas. Three words: Laff-A-Lympics! HOLLA!


will Julian McMahon (of Fox's "Nip/Tuck") be the next James Bond??? developing!


in a rare victory against The Man™, U of M students and bohemian Ann Arborites alike will still be able to spend time marinating on outdoor couches. on Monday night, the A2 city council tabled a proposed ordinance that threatened to ban outdoor couches ... buzz! now let's see what they can do to get the Naked Mile back up and running.


The Moveon.org sponsored Bruce Springsteen / R.E.M. show has moved from Crisler Arena to Cobo Hall. while it would've been awesome to see The Boss perform in the same venue in which he opened "The River" tour in 1980, I'm certainly excited to see him blow the doors off in Downtown Detroit. tix go on-sale on Saturday morning and are rumoured to be going for $75 a pop. worth every penny.


DetroitBlog explores the Iodent Building on Park Avenue, right across the street from The Town Pump. just so you know, I've always dreamt of purchasing this building and turning it into a kickass loft complex. unfortch that's just a pipe dream after blowing all my savings on Tuesday runs to Best Buy. at least I've got a kickass DVD collection to show for it!


watch those paws, Dr. Chocolate! Stefani (from MTV's "The Assistant") has got a LiveJournal! all kindsa hott sapphic buzz revealed! [via Scott Stereogum]


still wondering why Puerto Rico is eligible to field an Olympic team? the good folks at Slate have the answers you're looking for.


a LOT of people send your Uncle Grambo a LOT of links, but I can truly say that I've never received a request like this before. hence, the linkage: "Unky G: this is my dog. she's a big fan of yours. how 'bout a link? Love, hunny."


Blogger. so helpful yet so insidious. did you catch the developments of Tuesday where they put that search toolbar up on everyone's Blogspot hosted sites? i guess that people taking advantage of Blogger's free domain space can't really complain, but I'm still of the belief that they should proactively inform their customers about upcoming developments / changes to their platform. maybe now that the Google IPO is about to go public, they can start focusing on improving their customer support infrastructure.

posted by uncle grambo |
---
Tuesday, August 17, 2004

i'm breaking tradition here. normally, your Uncle Grambo's posts genuflect on a multitude of hott topixxx. but this, my friends, is truly a historic day. stop what you're doin' cuz I'm about to ruin the image and the style that you're used to and click over to ESPN's Page 2 for a truly epic moment in Pop Culture ... The Sports Guy vs. Chuck Klosterman!!!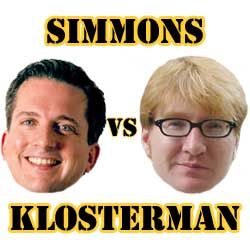 Part 1: Does America just totally suck?
Part 2: Who would try to kill Sonny Crockett?
Part 3: The Unambitious Stoner Guy
Part 4: Defending "Singles," ducking Scientologists
Part 5: Dodging Bullet Points


Thanks to Trevor H for passing along the hottness!

posted by uncle grambo |
---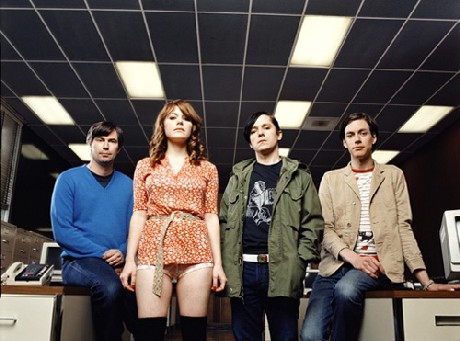 there's something unabashedly romantic about publicly declaring your love for another. you see it all the time, especially in movies. whether the moment occurs in a crowded public square, a restaurant, or halftime of a sporting event, the ending remains consistent. the man shouts "I LOVE THIS WOMAN!" loud enough for the entire world to recognize his devotion, then the happy couple retreats off into the night. howevs, i realized late last night that i could be a Pioneer Of Romance if i utilized my blog to do this very thing! to the best of my knowledge, it hasn't been done before. it's kind of like the first time someone decided to give another person a dozen roses, only blogs don't smell as good (on the positive tip, howevs, i'm not gonna drop 100 large, ifyaknowwhutwhutimsayin!). so, without further ado, here goes something that will likely alter the course of my life forevs. i'm so proud to be sharing this moment with each and every one of you...

I AM IN LOVE WITH JENNY LEWIS!!!

i know, i know, this probably comes as a shocker to you. after previous statements of devotion to Liz Phair and Amanda Bynes, i had sworn to myself that i would lead a life of monogamy. well, my fine feathered FOWs, that hasn't changed. i'm ALWAYS monogamous with my women (until i send them packing, yo!). but things will be different with Jenny, i just know it. ever since I picked up Rilo Kiley's latest album, "More Adventurous", from the iTunes Music Store on Saturday afternoon, i knew that i had found my muse. Jenny Lewis is nothing short of an Indie Rock Loretta Lynn, only better (no messages on the answering machine from an aggro, egomaniacal garage rocker)!!! her voice sweeps and soars with emotional intensity, conveying passion and heartbreak laced with optimism in a manner more convincing than any other singer i've heard in years. and while I am not quite sure if she is the band's lyricist or not, i am QUITE sure that it doesn't matter in the slightest. for your Uncle Grambo was smitten the second I heard her sing "Baby, I'm bad news" on the album's first single, "Portions For Foxes." yeah you are, you dirty little indie rocker. SO HOTT! the rest of the album oscillates between indie-fied torch and twangers ("I Never") and Postal Service-esque jammy jams ("Accidntel Deth", a collaboration with Jimmy Tambor-Best-O). a front-runner for the Grahammy Award for Album Of The Year, "More Adventurous" hits stores today (and news of Uncle Grambo's engagement to Jenny Lewis will likely hit US Weekly by Thursday). five stars (out of five, natch).

i've got a few friends who are like REALLY into zombies. this is a good week for them. first off, a trailer just hit the streets for "Undead", a movie about (get this) Australian Zombies! i can see it now ... "Put some brains on the barbie, mate!" and cinephiles with a predilection for Italian goremeister Lucio Fulci will revel in the re-release of his 1980 classic, "Zombie", on DVD today. zombies ... some say hotter than ever.

"I'd still lick you from head to toe even if u were wearing a tunafish kitty litter g-string covered in gefilte fish." if that ain't love, your Uncle Grambo don't know what love is. The Thigh Master's passion for Lohan is only exceeded by my love for Jenny Lewis.

Peabs finally explains his absence from The Blogosphere™ in this interview by Confessions Of A Social Retard: "Peabs was bored. The internet was dripping with ennui. People's lives were crushed when I left. I felt it was the least I could do. I mean, shmears, Peabs understands my importance and relevence in American pop culture. I didn't think it was going to cause the entire effing country to go into a Depression. Plus, my numbers were going down. Oh, lest we forget I'm a self-obsessed attention whore. Robvs."

looks like i picked the wrong week to stop sniffing glue. Wes Borland to rejoin Limp Bizkit. [via Big Matt]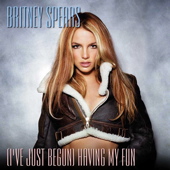 another iTunes exclusive! Brit Brit released "(I've Just Begun) Having My Fun" today ... buzz?


back in the halcyon days of Borders.com, enlightened readers everywhere took delight in the prowess of Jessica Lee Jernigan's interviewing skills. while our good friend JJ* is on her honeymoon, she raided the archives of that fallen site (R.I.P, yo!) to present you all with this 1999 interview with Bill Murray. all hyperbole aside, it's one of the better celebrity interviews i have EVER read. no foolin'. ever read another interview that resets Marcel DuChamp? didn't think so. SO BEST!


apparently inspired by Darling Nicky Hilton and Trashlee Simpson, Reese Witherspoon dyes her hair jet black. maybe it's just me, but with this new `do, she has instantly transformed into the poor man's Robin Tunney. schmobvs.

posted by uncle grambo |
---
Monday, August 16, 2004

i'm telling youze, i coulda been a contendah! when i'm old and wrinkled and gray and i've got Great Grandson Graydon Grambo propped up on my arthritic knees, i'll whisper in his ear and tell hims the story about the time that his Great Grandpappy almost made the New York Times. to set the mood, i'll pop in my "Brown Bunny" dvd and explain to him about the time when I met Vincent Gallo, widely renowned as one of the more controversial filmmakers of the time. i'll fondly reminisce about the afternoon screening that turned into an evening-long discussion, as well as the resulting coverage that my little blog received in its wake. but just as the little one starts dozing off to sleep with visions of blowjobs in his head, i will begin furiously cursing and tear into an inexplicable rage as I recall memories of NYT staffer Randy Kennedy.


you see, Kennedy profiled Gallo and "The Brown Bunny" in The New York Times on Sunday, August 15, 2004. and in this article, he directly references NOT ONLY the screening that I attended, but actually has the gall to lift a quote of mine describing Gallo as "the coolest person alive today"!!! i should be thrilled, right? dancing in the streets, right? er, not so much. you see, Kennedy attributes the quote to (and I quote) "one local Web log writer" without so much as name dropping either Uncle Grambo, Mark Graham or whatevs.org! nice reporting skills, buttmunch! would it have killed you to have thrown a Detroit blogger a bone? grrrr. i guess that The Old Gray Lady isn't ready to have her tees bovs'd upon by Uncle Grambo quite yet, but you can tell she's dreaming of me. NAUGHTY stizz. some say that's far hotter. dude shmears¹. [thanks to Beat Royalty and The Corsair for alerting me to the buzz on Saturday afternoon]


first things first. while I can firmly grasp the notion that our United States Basketball team made up of NBA All-Stars is so durst that even Puerto Rico can trounce them by almost 20 points, i'm having trouble understanding why Puerto Rico is considered a sovereign state and is eligible to field a team in the first place. don't we own them or something??? puerto rico's independence ... some say best revelation of the 2004 Olympics to date!


for us cats who grew up representing Midwest stizz, Katie Holmes has been the living embodiment of the unrivaled hottness that Midwestern girls possess. just by looking at her, you can tell that our little Joey Potter loves her dairy products ... a sure sign of Midwestern buzz. so, does the recent revelation that she's had some rhinoplasty change your perception of our gal Kate? developing! [via Defamer]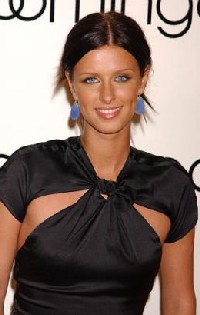 and your winner for today's "Least Important Headline That Everyone Will Be Blogging About" is: "Darling Nicky" Hilton pulls a Britney Spears and gets hitched quickie stizz in Vegas. no word on whether or not she was spotted in a hotel lobby masturbating with a magazine. do you ever find yourself wishing that there was functionality that allowed you to hit Snooze on an entire news story? yeah, this is one of those instances. [via Kerry]


remember during the 2000 Election when Al Gore kept droning on and on about the way that George Bush's proposed tax cuts would mostly favor "the wealthiest 1 percent"? uh, turns out he was right. thanks for nothing G Dubz, those tax cuts you keep hollering about actually RAISED the tax burden of the middle class! but what do you expect coming from a president who was just quoted saying that "real rich people figure out how to dodge taxes"??? [via 1115.org]


today's edition of Whatevs Watcher comes from GP Jenn! and I quote, "My old roommate was at La Dolce Vita for brunch yesterday to see the Gypsy Strings play (great jazz band). And guess who walked in? Jack White and Renee Zellwegger!" no word on whether they partook in the highly bandied about All You Can Drink Mimosa buzz from 11am - 4pm.


no wonder there was so much buzz on blogs about The Secret Machines! Warner Music actively courted bloggers to build buzz! and although there's some backlash buzz beginning due to the fact that Warner Staffers contributed "fake" comments about the band on these MP3 blogs, i give big ups to Warner VP of New Media Robin Bechtel for coming up with such an inventive (read: deceptively subversive) marketing strategy! HOLLA!


your Uncle Grambo is with Jason ProductShopNYC on this one. The cover art for Interpol's "Antics" totally blows. lazy!


"AVP" takes in almost $40 mills at the B.O. this weekend. NOW is when I want to start seeing pundits defend their spin that last weekend's opening for "Collateral" (just under $25 mills) wasn't in the least bit disappointing. WRONG-O! in a summer where Matt Damon is able to draw $52 mills worth of B.O. during the opening wknd of "The Bourne Supremacy", who do we blame for this movie's complete tankjob? did DreamWorks totally eff the marketing plan on this movie? in the wake of this performance and the disappointment that was "Ali", is Michael Mann to blame? or is Tom Cruise really over (especially considering that "Minority Report" and "The Last Samurai" were both nine shades of floptastic)? as they say, developing!


while this doesn't exactly qualify as "going out on a limb", I'm here to say that Brit Brit's upcoming remake of Bobby Brown's "My Prerogative" is going to be so bad that it's going to make Jessica Simpson's version of "Take My Breath Away" look like Oasis' cover of "Cum On Feel The Noize"! [via Scott Stereogum]


¹ Randy Kennedy, I forgive you. Twas probably your editors who clipped the shout-out to U.G.. I really don't hold any grudges, yo. Promise. Next time I'm in NYC, I'll let you buy me a Makers + Coke. obvs.

posted by uncle grambo |
---