Friday, June 25, 2004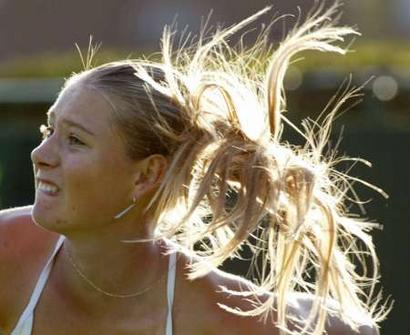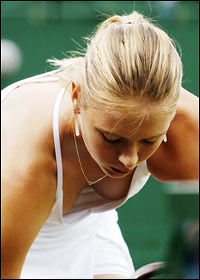 Sting ... some say the most important wordsmith of the 20th century. eff Ronnie Ray-Gun, everyone knows that Sting's remarkably powerful song chastising the Russians and condemning the nuclear arms race was the REAL reason that the Soviet Empire collapsed. so when you turn on the ole teevee this weekend to admire the sweet, sweet beauty of Maria Sharapova as she gracefully smashes forehand winners on the grass courts of Wimblebest, be sure and thank Sting. has anything ever been more obvs? "Dream Of The Blue Turtles" indeed! HUZZAH!


have a great weekend, yo. your Uncle Grambo is off for the rest of the day, I'll be hitting the links at a corporate golf outing. and by "hitting the links", I really mean "getting drunk on the company dime" ... shmears. but before I go, I encourage you to read The Grizz's interview with Jessica Simpson that appears in today's Detroit News. and if you're in need of PHC, might I suggest a few sites that haven't been getting enough love from Uncle Grambo as they deserve: Achtung Baby, Greg The Boyfriend, Krucoff, My Blog Is Poop, Stakes Is High, The Corsair, and The Rollertrain. stay cool, peeps.

posted by uncle grambo |
---
Thursday, June 24, 2004

yada yada yizz. a little personal aside here ... sometimes, thoughts about how quickly the world moves keep your Uncle Grambo up deep into the night. particularily during the fleeting summer nights ... i mean SHIT, can you effing believe that the month of June is already over? i know it's hardly a unique thought, but where did the time go? on nights like this, when I am pondering the rapidly dwindling days left until I say sayonara to my twenties, it's strangely reassuring to know that people are still getting shot in The D™ and that Los Angeles cops are still beating the shit out of civilians. some say reports of violence are weirdly soothing. bovs.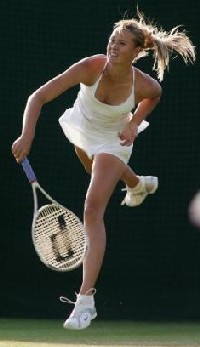 if there's one thing in the world that your Uncle Grambo takes great delight in, it's Wimbledon's fortnight of hottness. with that in mind, I'd just like to thank the parents of Maria Sharapova for producing such an extraordinarily beautiful human being. she's got the rockin' physique of a young Mary Pierce (nice gams!) with a face that makes Pornikova look like Mary Carillo. some say hotter than a bowl of Campbell's soup ... mmm mmm good!


New Orleans zookeepers are showing gorilla porn to their animals as a means to stimulate the mating process. no, not THAT Gorilla ... at least, that's what we hope!


one of the greatest pleasures in running this here blog is that people really seem to enjoy the "goofy patois" that your Uncle Grambo drops like breadcrumbs in the forest. though the credit for the language really belongs to the collective body of the FOW Nation (particularily Peabs and The Grizz), it seems that whatevs.org has been credited for bringing words like "obvs", "bovs" and "shmears" into the vernacular of The Blogosphere™. however, it seems that President Martin Van Buren isn't really impressed in the slightest (and rightly so!). dude invented the word "OK"!!! bovs on his respective presidential tees.


still, some say my finest moment occured yesterday when someone discovered whatevs.org through the following Google search string: franz ferdinand abortion whatevs! #1 on Google! holla atcha boolean logic!


if you haven't picked up today's DetNews, you're missing out on the hottness. The Grizz goes deep to discover the root cause behind the recent explosion in popularity of country music here in Detroit. his piece includes some choice quotes from Uncle Kracker, whose duet with Kenny Chesney is currently #1 on the country charts. in addish, the Los Angeles based FOW known in these circles as M. Hudson Hawk previews The Streets and his upcoming stop at St. Andrews Hall.


it's been two days since the news that Scary Kate went into anorexic rehab. some say one of the defining moments in the history of certain members of The Bloggerati™. both Lindsay Lindsayism and Scott Stereogum deserve kudos for their highly original (yet eerily similar) takes on this very disturbing development. so best!


Grambo-core (as defined by Nick Catchdubs): Rock-leaning girl pop a la Liz Phair. hey Nick, consider the term officially approved. add artists like Dido, Ivy, Gemma Hayes, Velocity Girl, Madder Rose, and Jem to the list. developing!


there are two major concerns with the Michigan football program in 2004. first, the inexperience of Matt Gutierrez at QB ... how will he respond to having the weight of the offense rest on his shoulders? second, your Uncle Grambo is concerned that a solid tailback candidate never emerged out of Michigan's spring camp (not that Lloyd would tell us, but STILL). howevs, it looks like the national press isn't worried; most pre-season pubs have them picked to win the Big Ten and finish ranked in the Top 10 nationally. let's go Blue!


and finally, click through only if you must. Tori Spelling gives a woman a lap dance for charity! while the sight of Donna Martin Graduates giving a lappy to an obvious lesbian may be SFW, it's certainly not SAL. that's "Safe After Lunch", for those who don't know. i just vomited in the trashcan next to my desk. i don't know about you, but I'll never forget that sick gap (some call it "rib cage") between her boobs ... durst breast job evs. but as The Grizz once said, "As sick as that gap is, it defined an era." and that's the triple truth, ruth!

posted by uncle grambo |
---
Wednesday, June 23, 2004

while there are some reports that Ticketmaster is still selling tix to Lollapalooza despite the show being cancelled, I just received the following email from a Ticketmaster customer service representative. it looks like all the interference that Eddie Vedder ran back in the `90s may have paid off, my refund has already been credited to my CC. while Ticketmaster still found a way to scam me out of $3.90 for a "processing fee", at least they refunded the full ticket price and all of the other service charges. my only real beef with them is that their customer service team uses some jankity jank ass purple Century Gothic font ... man, FUNK DAT!


speaking of which, remember "Funk Dat"? some say seldom discussed or even thought about! Sagat, never heard from before and never heard from since. man, did anyone else have the B-side where he actually busted f-bombs? some of the worst rants evs! still, some say best B-side since "Blood Money", which was the b-side of JBJ's "Blaze Of Glory", yet still not as hott as that "She Ain't Worth It" remix when Bobby Brown dropped intro and outro rhymes over some prime Glenn Medeiros latino buzz. bovs.


--------------------------------------------------------------



From: Ticketmaster
Subject: LOLLAPALOOZA - SHOW NOTIFICATION
Date: Wed, 23 Jun 2004 07:19:41 -700


THIS IS AN INFORMATION
ONLY EMAIL - PLEASE DO NOT REPLY!!

Reference: Cancelled Show

Hello, this is TicketMaster Customer Service with an important alert regarding your upcoming event. Lollapalooza, scheduled at The DTE Energy Music Theatre on Monday, August 2nd, 2004 at 2:00pm has been cancelled. Your account has been issued a credit in the full amount of the ticket price and service charges. The $3.90 per order processing fee and any UPS or TicketFast delivery charges are non-refundable.

If you have any questions, please feel free to contact us via our website at www.ticketmaster.com.

Thank you for using TicketMaster!
posted by uncle grambo |
---
dateline june 23rd, 2004. if you were to poll the editors of newspapers, gossip rags and blogs and ask them to boil down today's news coverage into one single buzztastic event, i'm fairly certain that 99% of the editors would arrive at the same conclusion. that's right, The Sun has an exclusive interview with The Ultimate Warrior!!! i know, i thought he died of a cocaine and steroid overdose years ago, too! but hellzno, we were wrong ... he was just run out of the WWE / WWF by Vince McMahon. TOTALLY EFFING REVEALED!

in less buzzworthy news, did you guys hear that Mary-Kate Olsen is being treated for an eating disorder? why isn't anyone talking about this? i thought this would be big news!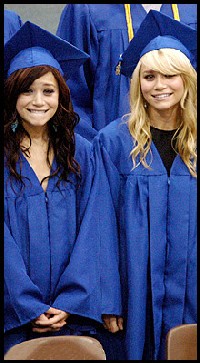 but ferreals, the news that Scary Kate quite possibly has anorexia is really more sad than funny. i would love to get all snarky up in this bitch, but the truth of the matter is that I don't really feel comfortable doing so. i mean, i know that it's difficult for the common person to feel sorry for an 18 year-old worth over $150 mills, but your Uncle Grambo certainly does. you can only imagine the kind of pressure that The Twizzles are under; critics have been bashing the duo HARD of late, particularily MK (who has also allegedly become REAL close friends with Michael Caine). the belly flop that "New York Minute" took at the B.O. ($13.8 mills so far) couldn't have helped matters much, either. all I know is that I'm wishing the best for MK, here's to what hopefully will be a speedy and complete recovery.


some say best recap ever. The Thigh Master attends the 3rd Annual Lebowski Fest and lives to tell about it. SO BEST!


Slate reads the new Bill Clinton jawn so you don't have to. phew, that saved me three months! that'll help me avoid getting my arse kicked for being such a slacker in my book club (note to the book club: i've got 90 minutes set aside to read at lunch, yo!)


Joan and Melissa Rivers leave the notoriously cheap E! Network for the glory (nope) for the prestige of working at the TV Guide Channel (er, not so much) for a big phat $8 million paycheck (nailed it this time). ouch, sucks to be E! ... they just lost the only reason that anyone ever watches their channel. perhaps more importantly, does this mean that Fashion Police is also going by the wayside? i love their über-snarkalicious yet strangely complimentary description of Mariah Carey this week: "Her slinky angled white satin gown not only flashes her thunderous thighs but forklifts her bionic bosom."


every now and then, something comes across the web that makes me glad to live in such a wonderfully bizarre world. one such example is this joint press release annoucing the addition of over 100 fonts to Fonts.com. quoth Allan Haley, director of words and letters at Agfa Monotype: "This is an exceptional crop of Fonts.com releases. "From pixel-based screen fonts to progressive display designs, these new collections will satisfy many needs while providing inspiration for future projects." while I didn't spy anything that remotely approaches the hottness of Verdana (the best font evs!), nonetheless the new crop of fonts is worth exploring.


MTV.com has exclusive footage of the fall that sent Brit Brit to the hospital.


smoke 'em (and buy 'em!) if ya got em. the Michigan state Senate just passed a bill that will hike the cost of a pack of smokes up 75 cents as of July 1. no buzz, good thing I'm quitting on August 7th.


revealed! ESPN.com names Bill Laimbeer as the best NBA player ever who WASN'T drafted in the first round.


big ups to Gijyun for dropping some choice whatevs.org lingo in yesterday's Denver Post. bovs on YOUR tees, dollface!


The MCR Crew hits up last weekend's Rock City Festival.


it's a conspiracy, yo! "Farenheit 9/11" slapped with an R rating by the MPAA.


more buzz for hybrids over at MSNBC.com.


new web-only trailer for "The Grudge" ... looks kinda dashboard to me. i fear that SMG's days of buzzworthiness are lost and gone forever.


if you're a teen celeb these days, looks like the hottest trend is to Bang The Boy Billionaire. three makes a trend, right? well first there was Mischa Barfin, then Ashley Olsen and now Emily Rossum. the not-quite-legal babe from "The Day After Tomorrow" is allegedly porking 24 year-old David Wildenstein, nephew of the magnificently scary Jocelyn Wildenstein. memo to Rossum: thems some bad genes, yo. run away while you can! specifically, run away to Detroit! even more specifically, might I suggest Virginia Avenue in Royal Oak? you'll love it! call me, we'll do it! and by "it", i mean lunch. and by "lunch", i mean "dry humping"! BOVS!

posted by uncle grambo |
---
your Uncle Grambo has had a minor backlog of photos to post up in this beeyatch, so here's a partial photographic retrospective of the last few weeks. they're not in any sort of chronological order whatsoevs, just a hodgepodge of hottness. click through for full-size madness (if you're so inclined). holla atcha Uncle, yo.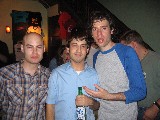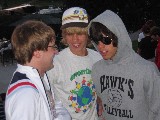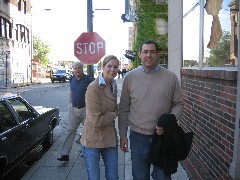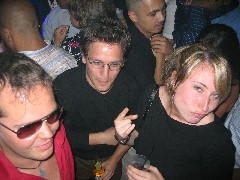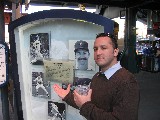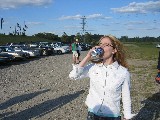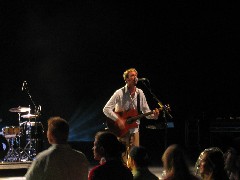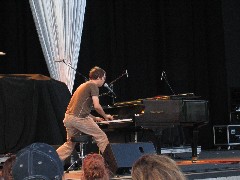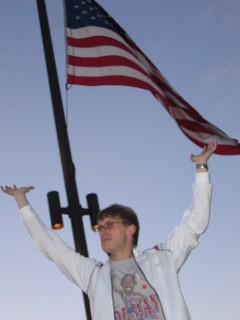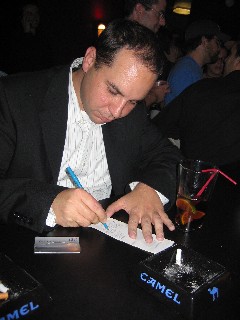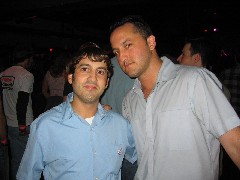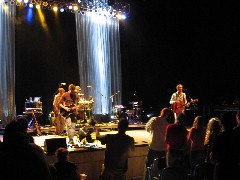 Top Row: Damore with Greg and Jeff from Sea Ray; Peabs hanging with a couple of Rooney-esque teens at the Guster gig; No Roar in 2004. Second Row: Jillycakes and Coach Glinka; Judging Randy, Judging Robert and So Says I at Rain in Vegas. Third Row: Grambo hearts Tommy Brookens; Coach hearts the Tigers; Dr. Em hearts beer. Fourth Row: Ryan Miller from Guster @ Freedom Hill on Sunday night; Ben Folds, also @ Freedom Hill. Fifth Row: Former Presidential candidate Peabs honoring President Reagan's passing; JP McKrengels always runs up a big bar tab. Sixth Row: Damore and Grambo, post-Stills @ Saint Andrews; Guster rocking out on stage.

posted by uncle grambo |
---
Tuesday, June 22, 2004

unfortch for Moz and crew, it looks like America's glut in the gut isn't directly proportional to what's in our wallets because Lollapalooza has been cancelled. uh, can you say WORST EVER OF ALL-TIME??? according to reports, advance ticket sales were shitty at best and the tour stood to lose millions of dollars, so organizers pulled the plug a mere three weeks before hitting the road. and while organizers are promising refunds, what do you think the chances are that I'll get the roughly $50 in Ticketmaster service charges (I bought four tix) back? yeah, I heard that Slim left town, too. while I applaud Perry Farrell for having the balls to try and pull off a travelling 2-day festival, it looks to have been too logistically ambitious to actually pull off, especially during the current economic climate. i blame The String Cheesers. no buzz whatsoever. [via Steve Codebreaker]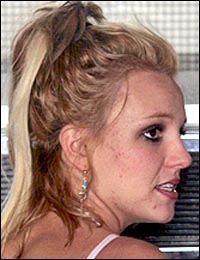 apparently not satisfied with being the mother of America's biggest sexpot, Lynne Spears pulled a Lizzie Grubman and ran over a photographer with her auto-mo-beel. The Sun has an amazing photographic retrospective of the incident, complete with photos of Brit Brit bawling her eyes out as paramedics arrived on the scene. the photographer suffered a broken ankle and has reportedly promised to stalk the Spears family from beyond the grave, "Creepshow 2" stizz. bovs.

if there's one thing that can be learned from the recent spike in recreational use of Viagra amongst twentysomethings, it's that chicks love dudes with boners. except when wearing Speedos, natch.

it's good to see that Ben Affleck was able to kick his sizable gambling habit. after all, one of the reasons that J. Lo dumped him was that Ben couldn't resist screaming out "HIT ME!" while in the sack (allegedly). you'd think that after getting publicly humiliated like that, you'd take a giant step back for a little self-analysis and realize that you've probably got a problem, right? wrong-o. Ben Affleck recently won $356K in a California Poker Tournament. nothing eases the pain of a breakup like depositing a couple hundred grrr in the ole bank account, i s'pose.

The Midwest has got no love for hybrids. sad but true, we heart our gas guzzlers out here in the flyover states. howevs, i think that people aren't really opposed to the idea of getting better gas mileage and being more environmentally friendly with their vehicles, it's just that the Big Three has so far refused to put any of these vehicles on the market. why? i guarantee that it's a Mulder-esque conspiracy between the automakers and snake oil salesman to keep hybrids off the market.

BMW and iPod strike a deal that will provide drivers with the ability to have their iPods directly sync with their car audio system, without having to hook up one of those crap audio-cassette converters. the Big Three ... again, SO slow to react to consumer demand. no buzz.


when Damore reset the Season 4 "Treehouse of Horror" episode where Homer shoots the Zombie Flanders ("He was a zombie?"), it sent me in search of a jpeg. after hours of Googling (okay, it was only about two minutes), I stumbled upon this ... small yet oh so mmmmBEST! zombies — so hott in `04.


The Observer put out their list of the 100 Greatest British Albums of All-Time. Dizzee Rascal? blogga PLEASE. also, SFJ on the best summer singles of `04. now I know that you're wondering what Uncle Grambo's choice is for Best Song Of The Summer (So Far) ... my vote goes to "Mr. Brightside" by The Killers! so effing best! howevs, while in Vegas, I made the prediction that "Accidentally In Love" by The Counting Crows was going to (unfortunately) blow up this summer and I'm sticking to my guns. "Shrek 2", some say the most quickly forgotten and seldom talked about $300 million movie evs. [via Info Leafblower and T-Muffle, respectively]


pics of Sunday night's Guster / Folds / Wainwright extravaganza will be up later tonight ... my Comcast was on the fritz last nizz. bovs on your respective tees.

posted by uncle grambo |
---
Monday, June 21, 2004

as your Uncle Grambo sits at his computer, slavishly trudging through the muckety-muck of The Internerd in search of PHC, sometimes he wonders if it's all worthwhile. some say that almost two solid years of shirking corporate responsibilities in order to snarkily gossip about the likes of Brit Brit and The Trousersnake eventually takes a toll on a man, particularily when that man is finding himself picking up more and more of said responsibilities. but every now and then, a night rolls along that makes it all worthwhile. last night was one of those nights, natch.


while a full rundown of last night's highly anticipated Guster / Ben Folds / Rufus Wainwright summer tour spectacular will follow later this evening (complete with pics), i just have to throw out big ups to Guster and particularily to R. Mills for being the coolest, most down-to-earth and unassuming rock stars of all-time. Ryan hooked us up with some hott seats (fifth row!) and some even hotter sticky passes that allowed a contingent of FOWs to get backstage after the show, where we met up with the band after laying a minor smackdown on the Freedom Hill security force. we drank Lagavulin and debated some of the issues that have confounded mankind for generations, like whether or not Chris Martin was a douchebag and how many ice cream sandwiches is too many (we arrived at three). and while I will leave the tales of tour bus debauchery up to your twisted imaginations, I will reveal that Guster is doing a fine job living up to the spirit of The Darkness, the last band to occupy their tour bus. howevs, i will say this: do yourselves a favor and pick up tix for the show when it hits your area ... so best!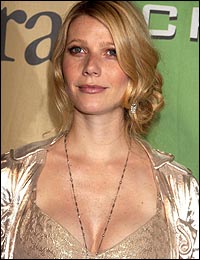 while she'll never live down Liam's assertion that she's nothing but a gawky bird, i'll be god damned if Gwynnie isn't the cat's pajamas. holla atcha post-preggers hottness!


"sloppy, self-indulgent and eye-crossingly dull" ... nope, that's not a description of getting a handjob from Aretha Franklin while she powers down a few dozen wings behind the local Chicken Shack, rather it's how Michiko described the new Bill Clinton jawn in a front page bitch-slapping in yesterday's Times. the heavy dose of spitefulness reads like comedy, but also pretty much seals the fact that this isn't a book that I'm gonna get around to anytime soon. i've already been neglecting my book club (i'll make time tonight, promise!) and there are a few buzzworthy titles that i'm looking forward to devouring on the beach, so this 900-plus page behemoth is gonna have to wait.


in the oddest musical pairing since Shatner and Ben Folds, Jay-Z shared the stage with Phish in New York last night. i can't really decide how i feel about this ... is this a good or a bad thing for J-Hova? i mean, it's not like you're gonna see Nas share the stage with The String Cheese Incident (or are we?) ... i need help in processing this news. it makes my head hurt.


and in even weirder musical news, Tom Cruise hearts Joss Stone. wtf???


in a giant victory for the marketing department over at Fox, "Dodgeball" kicked the shit out of Spielberg and Hanks at the B.O. this weekend. while a $30 million start no longer guarantees $100 mills of stateside box office receipts, this opening vindicates Ben Stiller and his drawing power at the ticket window. he had been getting a lot of negative press for being overexposed and, in the wake of "Duplex" and "Envy", some were starting to build negative buzz for Stiller. howevs, look for those types of stories to start to appear around the formerly untouchable Tom Hanks. "The Ladykillers" bombed, "The Terminal" looks to be another flop and this winter's release of "The Polar Express" looks pretty much unwatchable. didn't anyone learn from "Final Fantasy" that "realistic" CGI has no buzz? developing...


Chuck Klosterman waxes best on the new Metallica documentary in this weekend's NYT Magazine. word on the street is that this is THE must-see movie of the summer, though I'm still laying my bets on "Before Sunset" to be the Grahammy Award winner for Best Summer Movie. speaking of which, Ethan Hawke is profiled in the new New York magazine.


Rob Zombie talks to MTV.com about the sequel to "House of 1,000 Corpses" ... the sequel will be called "The Devil's Rejects", sounds like a great band name to me. not as hott as My Friend's Band, but close. bovs on YOUR respective tees.

posted by uncle grambo |
---