Friday, February 11, 2005
That's right, bitches. Motherscratchin' Kelly Clarkson, y'all! Think you've heard a good pop song lately? No matter how tatts your fave track might be, my bet is that it blows brontosaurus tees when compared to the binocular quotient of "Since U Been Gone." Don't believe me? Maybe you should try checking out what your boy Mikael Wood thinks. Or, if you're still not sold, those indie grinches at Pitchfork heap this praise on it: "Whenever someone fits the pathos and triumph of such an experience into a three-minute cherry bomb like this, you pay your respects in the proper way-- you turn the damn thing up." RESPEK! Propers to Lorne Mizzle, yo.

And while I'm not what you would call a giant fan of the recently shelved "Arrested Dees" (out of ignorance, not general dislike), it warms my cockles to see that good things are happening to Jason Bateman. Despite what the all-knowing Nummer says below, EVERYONE knows that Bateman's most triumphant performances were given between September of 1984 and February of 1985, "It's Your Move" stizz. Although he played roughly the same character during his recurring guest role on "Silver Spoons", Bateman was an intelligent enough actor to understand that he needed to turn down the Eddie Haskell quotient JUST so in order to win the audience's favor. Misson accomplished, mate. And if you were to feed this particular blogga enough B (E)s, I would put together a convincing argument that the character of Matthew Burton was indeed THE groundbreaking role that paved the way for America to fall in love with the antics of future 80s icons such as Ferris Bueller and Mike Seaver.

But that's a different conversation for a different time and certainly a different place. Until then, please enjoy the fine work of Nummer and H-Bomb as they preview this weekend's "Saturday Night Live" with their patented Pre-Show Comments. HOLLA!

NUMMER
H-BOMB
Episode 12: Jason Bateman / Kelly Clarkson (1/23/05)

Say what you will about Bateman's recent roles in things like "Arrested Development" or "Dodgeball", but we all know his real claims to fame were David Hogan in "The Hogan Family*" and Todd Howard in the underrated "Teen Wolf Too". Not many will argue that Bateman peaked roughly 18 years ago during this time period, but I still feel this week's episode will pack some surprises. Bateman, like Giamatti, doesn't have any defining on-screen character traits for the cast to build every sketch around. We better damn well see some out of the ordinary material as a result.


As for Clarkson, I have not waited a lifetime for her moment on SNL. Arriving just over a year after Clay Aiken acted as a SNL musical guest, Clarkson's appearance feels a little late. Hopefully the cast won't roll out any obvious American Idol sketches.


*Who remembers when "The Hogan Family" was called "Valerie"?

If truth be told, Jason Bateman has never really done anything for me, not back in the 80's during his supposed "teen dream" days and certainly not now, even despite his recent comeback on the hit series "Arrested Development." Alas, I'm not exactly thrilled about this week's show. As always, however, I'm willing to give him a shot. I have heard some good things about him and his new show, so perhaps with some decent sketches, this show could have potential.


Kelly Clarkson's SNL debut does seem ridiculously late compared with Aiken's appearance last season, but perhaps that will end up being a good thing. She's got more time and experience under her belt, so hopefully that will help in avoiding any disasterous performances. Plus, I hear she actually sings! Honestly, though, I actually like most of Clarkson's songs, so I'm definitely looking forward to seeing her on stage come Saturday night.
posted by Uncle Grambo |
---
Thursday, February 10, 2005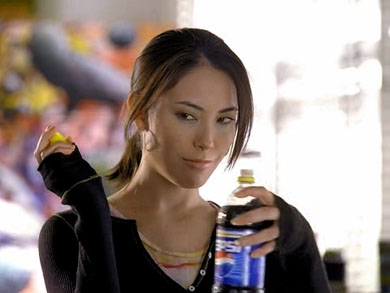 Your Uncle Grambo is right there with ya, Rivers. Being ethnically ambiguous ... so hott in `05. Case in point? That Pepsi Girl. So. Much. Buzz. So much buzz, in fact, that the maestro responsible for F.U.B.A.R., Justin, came out of retirement JUST to blog about this Jen-Bo look alike. That's what we call an EXCLUSIVE, folks! HOLLA!!!

And who said that sarcasm was dead? Check out this genius headline from today's Freep: Coffeehouse brings New York style to Taylor. Ah yes, nothing makes me yearn for a morning stroll through Central Park or a Maker's fueled late night at Piano's like a trip downrivs to the Heritage Perk Gourmet Coffee Shop and Internet Cafe. And when asked if the massive 800 pound gorilla of the coffee industry posed any threat to their business, Dan Smith (son of the owner) was quoted as saying "(Starbucks is) a concern, but also a kind of blessing. All it does is increase demand for coffee drinks. It helps build awareness of lattes and increases awareness of coffee." Looks like SOMEONE just got through the chapter on "Awareness" in his Marketing 101 class! [via Big Matt]

RELATED: Wanting to protect their turf and maintain the favor of the area's WT Douchebags (this time, East Side stizz), The Snooze sent poor X-Tina Breithaupt out to The Hayloft Liquor Stand. I can smell the VD in the club tonight, y'all.

Scott Stereogum got his hands on the new Gorillaz jawn, mp3 stizz.

Although your Uncle Grambo isn't really sure that Lifehacker should be considered a "blog", I will readily admit that it's become a daily must-read for this particular Internerd Impressario. Huge props to the Denton cabal on its launch, and well as for having the bizzness acumen for slyly categorizing this website as a blog.


Can someone please inform Tim Booth, former lead singer of James pictured at left, that there are NO plans in the works to make "Reign Of Fire 2: Dragons REVEALED"? If he complains, tell him to sit down next to me. RELATED: Try telling me that McConaughey wasn't straight up FEROCIOUS in that role.


Dateline London. World's ugliest couple to get hitched. The thought of these inbreds bumpin uglies is enough to make this bloke chunder in my pint of Bass, thankyookindly. And while I'm preaching to the Blog Nerds out there, have you ever wondered what Maccers looks like? Wonder no more. I've met the lass, and she's really quite lovely. Cor blimey on her respective British tees, obvs.


San Francisco has got love for The D™ ... no, not THAT d. Get your mind outta the gutter, I'm talkin' about The Motor City. [via Rob Theakston]


If you believe the gossip rags, the only person that Johnny Knoxville ISN'T banging these days is his wife (*shudder*). Last summer, he was attached to Kate Moss. Now, Page Six alleges that he's stabbed Lindsay Lohan's cat. In addish, this week's Popbitch email has him trysting with Jessica Simpson on the set of "The Dukes Of Hazzard." No wonder Nick Lachey is handing out his mobile number to every gorgeous blonde he meets.


RELATED: If you're not watching Season Three of "Newlyweds", you're missing out on what this viewer thinks is the single most watchable show on television. Simultaneously fascinating, repulsive and depressing, this show is a dazzling dissection of how wealth and the pressures of fame can lead a storybook romance to crumble under its own weight. Watching an episode is akin to taking a trip back to the Italy of AD 79 and watching the townspeople in the days before Vesuvius erupted. WATCH Nick and Jess stomp on some grapes in wine country! OBSERVE as they bicker over who cleans up after their dog! BEHOLD the cuckolding of a former pop star!


In a perfect world, these seemingly mundane events would lead to a Bastille Day type revolt against celebrities and their addiction to conspicuous consumption. However, since none of us live that world, sit back and enjoy the slow burn. WATCH as the expression of disgust creeps across Nick's brow as Jessica drops a couple grand on Louis Vuitton accessories for her dog! OBSERVE the complete lack of sexual passion or desire on Jessica's face on her second wedding anniversary! BEHOLD the steady disintegration of the marriage of America's Favorite Couple!


I'm telling you people, just one word. VESUVIUS! Vesuvius, I tellz ya!

posted by Uncle Grambo |
---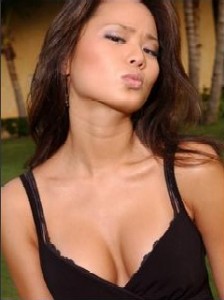 "there's this thing in southern california which has been on the lo pro for a while,the early morning stoner white washed asian girl. real world: san diego's jamie is not only the biggest babearaus to be on the show, evers, but she repred hard for the asian girls. gone are the bookish, nerdy girl or the import car model stereotypes which have dominated as of late and say howdy to the new asian stereotype, jamie chung. i mean, to exactly pick out what made jamie so hot; the way she doesn't know how to speak korean, so she's never really had a conversation with either of her parents or the fact that she really wasn't on the real world that much which leads to this thought train of 'oh, what scandalous things did she do that could've been show on the air?' or 'man, she must be so boring that she'd probably be into a blogger like me'. or could've been that mugshot from the time she got arrested in riverside?"
— Skeet On Mischa (12.29.04)


Ah yes, So Cal. Some say it's more like SO BEST! We don't have "early morning stoner white washed girls" of ANY ethnicity here. Durst. Anyhoozles, your Uncle Grambo is still snowed under (literally and figuratively) here in The D™, but I thought I would take a brief moment to inform y'all that Jamie RWSD is gonna be BACK on the small screen, "Inferno 2" steez. Some say best development since Mädchen buzz was revealed on "E.R." (which, btw, airs TONIGHT!). Set your betamaxes, bitches! "Inferno 2" debuts on the 10 Spot on Monday, March 7. Yodel atcha.


And while I've got a quick sec, loyal FOW Kris Chen has informed me that whatevs.org has wrapped up 3rd Place in the category of "Best Blogs" in the new SPIN Readers Poll! Although I haven't seen the issue yet, your Uncle Grambo would like to throw out some major propers to everyone that voted for this here blog in that there category ... may the sky rain bovs on each of your respective tees.

posted by Uncle Grambo |
---
Tuesday, February 08, 2005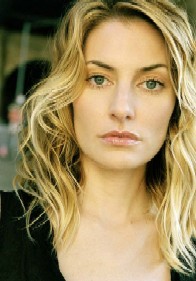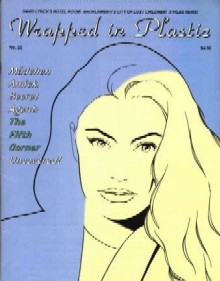 I can't remember the last time I watched an episode of "E.R." Thinking back, it was probably when I was an undergrad living in A2 at 910 Greenwood, circa 1996. Clooney may or may not have still been on the show, but I sure as shit know that the cast didn't include Maura Tierney (always underrated), Lindsay Weir (BUZZ!) and Shelly Johnson! Wait wait wait, how come NO ONE told me that "ER" is now co-starring Mädchen Amick, aka "Everyone's Favorite Waitress at the Double-R"???


While others might argue that the Audrey Horne, Donna Hayward or Maddy Ferguson was the A#1 hottie in the town of "Twin Peaks", your Uncle Grambo has been and always will be a Shelly Johnson fan. And, come to think of it, so was Bobby Briggs! Shmears. And although Mädchen's career as an actress flopped as she tried to transition from the boob tube to the silver screen, Amick afficianados can always rejoice in the outstanding hottness that was "Dream Lover", straight to video stizz. But now that word is out that Shelly is guesting on "E.R.", I now ceremoniously proclaim "Must See TV" buzz on NBC's Thursday night schedule! Set your Betamaxes, bitches! New shoes, new shoes!


RELATED: Looks like Paramount is readying "Twin Peaks - Season Two" for a 2005 release, complete with a fresh transfer of the remastered negatives! [via The Thigh Master]


No Buzz Alert! Bushie is in the neighborhood. Cobo. 2pm. Not even in the same UNIVERSE of hottness as when Peabs and your Uncle Grambo caught Weezer there in `01. SHE MARS.


"198090 (Aquatic's Cupid)", the new single from Detroit's own Thunderbirds Are Now!, scores a 4 and 1/2 star review from Pitchdork.


When the Riverfront 4 Cinema opens at the RenCen in May, it will become the FIRST and ONLY movie theater in Downtown Detroit that shows first run films. Yes, that's right ... THERE ARE NO MOVIE THEATERS IN DETROIT! You gotta hit the 'burbs if you want to see "Boogeyman", folks. But, then again, your Uncle Grambo doesn't want to sleep on The DFT. Which, as a theater, is simultaneously best and also kind of worst. On the upside, it's a remarkably ornate moviehouse AND the only place in town to catch ultra-obscure indies (NOTE: Wong Kar-Best's "Days Of Being Wild" the weekend of March 18th). On the downside, if you're over 5'9", your legs are going to be cramped like a mofo by the time the film ends.


The Strokes ... seldom discussed in `05. That being said, Julian got married this weekend and Fab got dumped (allegedly). Somewhere in Hollyweird, Winona Ryder is licking her lips in anticipatory glee. She's a maneater!


I don't need to sell my soul, he's already in me. I wanna be adored. Filter scores an interview with Mani and the King Monkey (aka Ian Brown), in which the two ex-Roses discuss their legacy as being both "the band that saved Brit-Pop" and "the most disappointing rock group of all-time" (their words, not mine).

posted by Uncle Grambo |
---
Monday, February 07, 2005

Wow, what a game! In lieu of boring the FOW Nation TOO much with my intricate theories on Athletics In America, I'll just say this: it's really nice to see that franchises who build well-rounded TEAMS (rather than superstar-dominated ones) are being rewarded in both the NFL and NBA with championship rings. Don't get me wrong, both The Pats and The Pistons have some incredibly talented athletes on their respective squads, but it's reassuring to this thirtysomething to see that David can still open up a can of whoop ass on Goliath when it counts most. Big ups to my boy T. Brady, who officially earned his place among the legendary QBs of all-time with yesterday's clutch performance. Here's hoping that he railed the bejeezus out of Bridget Hottiehan after the game last nizz. Bovs.


And while there were a few commercials that had some buzz (most notably, Careerbuilder.com, Anheuser-Busch, GoDaddy.com and Emerald Nuts), most were pretty blah. Particularily revolting was the Fed Ex spot. Riddle me this, how in the sam hell did they get hoodwinked into running an audaciously durst commersh featuring Burt Reynolds and a dancing, talking bear? I don't care how well your company is doing, wasting well over $5 million ([$2.4MM per :30 seconds X 2] + plus production expenses) on what basically amounted to be a furious masturbatory session for some jagoff creative douchebag from BBDO is both irresponsible and unforgivable for your shareholders. I'd be surprised if Fed Ex's director of advertising still has a job this morning.


And I don't know what DetNews reporter Mekeisha Madden's problem is, but your Uncle Grambo thought that Macca did a fine job with his halftime perf last night. Trying telling me you didn't get goose bumps when the entire crowd sang along to "Hey Jude" ... I know I did. And brand me a square if you will, but "Live And Let Die" was pretty effing best evs. The only thing that it was missing was W. Axl Rose wearing a catcher's chest protector, "Use Your Illusion I" stizz.


RELATED: Super Bowl Blogs are just about the worst idea I've ever heard of. Could The Blogosphere™ get any MORE durst? Fucking bloggers. Also, Brad Pitt's booty call to Angelina Jolie disguised as a Heineken commercial was kind of tasteless, even considering that it marks the first time that Pitt and David Fincher have worked together since "Fight Club."


Army Girls Gone Wild, NY Daily News stizz. You can bet your arse that somewhere, at this very moment, Joe Francis is desperately trying to find some video of mud-wrestling military policewomen. I'd buy THAT for a dollar!


Ned Flanders ... the new American Everyman?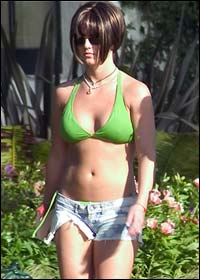 Brit Brit's apparently rockin' a Sydney Bristow-esque wig these days. Damn, she looks fine.


"Well if you wanna be the teacher's pet / Then baby you just better forget it! / Rock got no reason, rock got no rhyme / I better make it to school on time!" The Grizz talks to talks to Joey Gaydos Jr. in today's DetNews, who you'll DEFINITELY remember from "The School Of Rock." Buzz.


Most anticipated movie of 2005 that doesn't star Bynes or The Trachtenhottness? It could be Stephen Chow's "Kung Fu Hustle", his follow-up to the tremendously popular "Shaolin Soccer." Trailer revealed!


Ghost House ... some say the new Dimension. Somehow, some way, "Boogeyman" managed to scare-up $19.5MM at the B.O. this weekend, making it the country's number one film. Get it, "scared up"? Man, I should write headlines for Variety. SHMEARS.


Meth ... some say it's the new crack. Anyone else noticed that this drug has been dominating the media's attention of late? Google News reveals 5,800 media mentions in the last month alone. I guess it only makes sense, seeing as how we're all living in Bushie's White Trash America (holla atcha, Gretchen Wilson). But even The Paper Of Record is getting in the act: witness the harrowing piece that appeared in this weekend's magazine. Who knew that "The Salton Sea" would've turned out to be so influential?


Who knew? The #1 search result for the word "the" on Google is The Onion.


And while this breaking buzz is nowhere near as hott as the rumoured Spiers v. Foxy Jazzercise Jell-O wrestling match, it's worthwhile to note that there's a blogwar brewing over Matt Tobey's Top 500 Songs Of All-Time. Some feminist guest blogger for Maud Newton is accusing 1115.org, Rob Theakston and everyone else who contributed of being (and I quote) "phallocentric rock geeks". Or something.

posted by Uncle Grambo |
---