Friday, April 15, 2005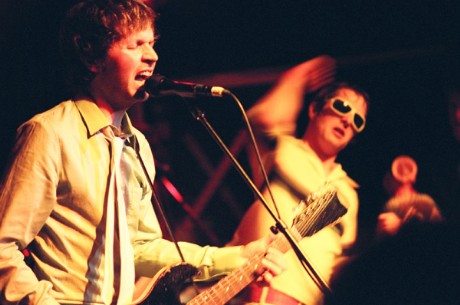 Beck. Nearly one year ago at this time, he turned the Empire Polo Grounds in the peaceful Coachella Valley into a virtual back-alley abortion with his solo acoustic dirges of durstosity. At the time, he was neck-and-neck with Alex Kapranos and Howie Day on my personal list of dudes who deserved a serious cockpunching.

Well, what a difference a year makes. "Guero" ... some say the greatest comeback since Sean Elliot (post-kidney transplant, natch). "Girl", the sunny jawn that ranks alongside "Every Breath You Take" as the best tale of sexual obsession ever put on wax, is one of the front-runners for my Grahammy as Song Of The Year. All of which makes this weekend's "SNL" must-DVR teevee.

But don't take it from me. Please enjoy the patented pre-show comments from your Masters of Hottness, Nummer and H-Bomb!

NUMMER
H-BOMB
Episode 17: Tom Brady / Beck (4/16/05)

Crap! A whole season almost went by without a sports host. Nothing against sports, but this season is doing pretty lousy by itself. Not sure if bringing in someone with little to no stage experience is the answer (his work as "Computer Geek #1" in the Farrelly Brothers' "Stuck on You" not withstanding).


The last time a professional athlete hosted was when Andy Roddick took the job back in November 2003. Oddly enough, and with the help of musical guest Dave Matthews, Roddick's episode ended up scoring the most coneys of that season. I doubt 28-year-old Brady's episode will fare as well, but it is hard to imagine this season getting any worse.


In other news, Beck becomes a member of the 5 Timers Club as of this episode. The last time Mr. Hansen came through SNL was during his dreary "Sea Change" days. I was admittedly less than thrilled for that appearance since I was basically Beck'd out at the time. That said, I'm really enjoying his two latest releases "Guero" and the companion "Gameboy Variations" EP. Hopefully he can use this time to recapture some of the energy from his earlier SNL performances. Let's also hope he plays "Rental Car" from the new album. And if you haven't heard "Bad Cartridge" or "Bit Rate Variations in B-flat" from the EP yet, spend the $1.98 at iTunes and enjoy Beck's on-going adventures with MIDI music.

My first impression upon hearing that Tom Brady was hosting this week's show was, "Who the f*ck is Tom Brady?" I know, I know. Obviously, I'm not the biggest sports fan, especially when it comes to football. Taking a closer look at Brady, he's apparently very good at what he does, but the fact of the matter remains that he isn't going to be playing in a football game, he's going to be hosting Saturday Night Live. I don't think I'm going out on a limb in thinking that he probably won't contribute a lot of humor to the already dull season. I'm imagining the standard athlete-hosted show, where the host basically just plays himself in most skits. A very boring resort, indeed, but not a far stretch from what's been thrown at us lately.


As for Beck, I haven't heard his latest work yet, but I hear it's rather good so I'm looking forward to seeing him on the SNL stage again. His past perfomances have rated pretty well in my book and I don't see this time being very different.
posted by Uncle Grambo |
---
Thursday, April 14, 2005

I begin today's rhubric with a Public Service Announcement. Despite reports suggesting otherwise, your Uncle Grambo isn't ready to kick the bucket quite yet. Rather, I'm just starting to recover from nearly four months of necessary hibernatory buzz. Keep the faith, just like the "Innocent Man" era Billy Joel (pre-rehab, natch), and all will be revealed. This I swear.

I know she makes the indie bloggas swoon, but this must be said and I think that I'm the man to say it. Annie is the poor man's Nina Persson. That is all.

Ewan. Scarlett. The D™. So best. [via Data What?]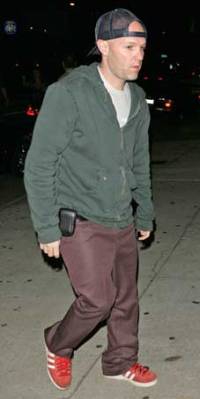 Moby, you can get stomped by Obie. Wait wait wait a second here, pardon moi, but that's not Mobes. That's Durst! What the eff? Too many long nights manning the switchboards at Durst Lumber or what? Who turned the angry, hairy-bellied rap rocker into a sensitive, hoodie wearing shadow of his former self? I blame Wes Borland.


Speaking of Durst Lumber, during a Google search I revealed that they provided the lumber for the renovation work done when ABC's "Extreme Makeover" came to town last fall. Who knew?


Is there anyone more miserable than Freep sports columnist Drew Sharp? Geez, can't some kind soul out there buy the man a stiff drink or get the dude laid or SOMETHING? It's been eons since he had anything positive to say about anybody. I mean, it's not like I'm not down with the snark -- no one's ever accused me of Jula-Schvitzing. But doesn't it seem like someone should take an editorial weed-whip (so to speak) to columns like the one that ran today? Ecoutez, I love to bash the Lions as much as the next guy, but at least I try mask my seething disgust for the organization by injecting my critiques with a little bit of rocket sauce. And anyways, who still makes an editorial decision to go with the whole "timeline of events that have yet to occur" column? Some say even more tired than ending your paragraphs with HOLLA!


Tom Green versus Martin Short ... easily the least interesting celebrity squabble since Alicia "Lecy" Goranson versus Sarah Chalke ("Roseanne" stizz). Remember when Becky got all of a sudden swapped out? Shit was bananaz!


Looking for another reason to get your Dorkwave on this weekend? Check out the Dorkwave Recommended Playlist. Any setlist that includes Book Of Love is a setlist I want to hear. If Doyle decided to drop "With A Little Love", I'd probably keel over from a massive surge of reminiscia¹. Also, if the collective is taking any requests, how's about a little When In Rome? "The Promise" ... seldom revealed.


Beth Orton cameltoe. "Concrete Sky" steez.


Can't find nothin' on the radio, man. Uh, turn it to that station. Coolfer drops some JACK-FM science. Detroiters might recognize this burgeoning format as Doug-FM. DJs communicate to the masses. Sex in violent classes. All our life we grow up prisoners, all our life RADIO LISTENERS!


The Sights, this week's Metro Times cover boys, are throwing a record release party TONIGHT for their fabulous new self-titled LP. Magic Stick. Be there or be durst. Motor City Rocks' own Mr. Gary recently gave the "damned fine" record the review treatment ... I say buzz.


And finally, both Laura Modern Age and MTV got invited to a "Get Behind Me Satan" listening party last night. Hmmm, wonder if they're going to hold something similar here in The D™? And I wonder if your Uncle Grambo could magically get on the guest list? How would one makes something like that happen, anyway? Hmmm. Have I ever mentioned how much I love V2? Because I love V2 the mostest. I do. It's true. The mostest. V2. So best. So, so best!


¹ Yes, I just made that word up. And yes, you know exactly what it means. And yes, it dominates.

posted by Uncle Grambo |
---
Wednesday, April 13, 2005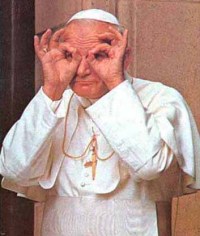 Or, "You Cardinalz Best Get Yo Shit Together And Elect A New Motherchucking Pope Cuz The World Is Going To Hell In A Pier One Handbasket!"

Witness the following:
— Britney Spears announces her pregancy.
— Black Eyed Peas will release another album in May.
— 107 students score a perfect 2,400 on the new-fangled SAT.
— Fred Durst cast as "an evil Satanist" on NBC's new show, "Revelations."
— The White Stripes announce that "Get Behind Me Satan" is the name of their next LP.
Is it just your Uncle Grambo or has the barn door to Hades just swung the funk open? C'mon down, Satan ... the water is warm!

Have I mentioned that strippers stole my digital camera how much I love my new DVR? So, so best. I've got Series Recordings set to capture late night faves such as "Wonder Showzen", "Aqua Teen Hunger Force" and "Subterranean" that I'm usually not awake to see. I lurve it times nine.

Regarding "Subterranean," I caught the new Bright Eyes video on Sunday night. As much as your Uncle Grambo loves to rag on Conor Odurst, I've found myself spinning "I'm Wide Awake, It's Morning" on more than one occasion. It's not awful, people. Give it a shot. That being said, the video for "First Day Of My Life" was all-time worst ever; it was some kind of scabby mash-up of Cake's "Short Skirt, Long Jacket" and X-Tina Have-No-Hair-A's "Beautiful" ... in other words, the whole concept is to film a bunch of provacatively mallternative couples while they're listening to the song through old headphones. Oh please, Mr. John Cameron Mitchell, just go on and SHOCK ME SHOCK ME SHOCK ME WITH YOUR DEVIANT BEHAVIOUR! Oh look, there's a gay couple holding hands! Isn't that daring? And wait, there's an old black man kissing a young white girl with dreadlocks, how taboo! Wait, what are those two women doing kissing each other on the lips? Wow, apparently gay people can fall in love just like the rest of us!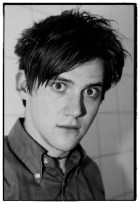 Hey Bright Eyes, we get it. You're a man of the people. You're the Springsteen of the emo set. Good for you. But stop with the preaching. It's really bothersome. Focus on making good records, smash that 808 and throw it forever into a digital urn and never, I repeat NEVER, collaborate with Hedwig The Angry Durst again. Snizz.

While I'm doling out back-handed compliments to people I normally abhor, your Uncle Grambo would like to throw out sincere and hearty propers to Freep staffer Brian McCollum for some truly outstanding reporting on the troubles surrounding this year's DEMF / Movement / Fuse-In Detroit Fest. Well worth the 20 minutes or so it will take to read it.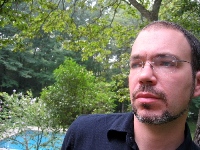 Probably the best line that I've read all year. In a review of M.I.A.'s "Arular," local scribe extraordinaire Johnny Loftus closes his piece with this gem: "How can we dance when the blogs are burning?" Somewhere in New York, S/FJ is delicately stroking his goatee.

Kwame places cement shoes on a prominent cement silo. Riverfront, whut whut?

Good job, Wolverine Frat Stars. And by "good job", I mean "Good riddance." The Ann Arbor chapters of Delt Sigs and ATOs just got the Heisman from their nationals.

How come no one out there is shouting to the high heavens about how supremely jawesome The Modern Age has been of late? Miss Modernage hasn't been on a roll like this since the summer of 2003. Her post on the Biblical reference reset by "Get Behind Me Satan" contained some solid (and quick-like) reporting skrillz, and her post entitled "Is It Still Art If It's Crap?" was chock fulla moments where, as a reader, my thoughts could be described as such: "This is good ... I'm jealous ... this is really good ... I really need to get out to museums more often ... I always knew Laura Modern Age had this in her!" Great work, kiddo!

Suburban pseudo hipsters with enough money and not enough time-slash-inclination to rummage through thrift stores rejoice! Urban Outfitters is coming to Somerset Mall in September! Exclamation points abound!!!

Looks like I need to set up a Series Recording for "Topic A With Tina Brown" ... here's a screencap of Foxy Jess lookin', well, urm, er, foxy. Small screen stizz. Congrats, darling! Don't forget your Uncle Grambo when you're all super famous and shit!

Dirty McKean ... best blogger ever?

And finally, your moment of zen ... Cuthbert hearts the Kongas!

posted by Uncle Grambo |
---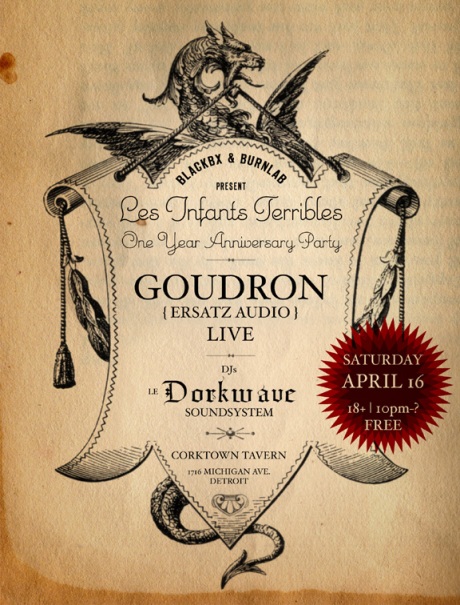 "Dorkwave is about the records that got you called a freak in high school ... The fact that we play those same records now is a form of redemption. I donít want to talk like some stupid-ass statesman, but it feels good to say, ĎI told you so.í Itís liberating." — Rob Theakston invents a de facto mission statement for the collective known as Les Infants Terribles in this week's Metro Times


Not only did the Dorkwavers score themselves a nice feature in this week's Metro Times, but they also ended up landing the cover of this week's Real Detroit (with a story written by Ryan Sult, no less)!!! Congrats go out to T-Rob and the boys for getting some well-deserved press; their decadently booze-soaked throwdowns have been garnering mad underground buzz for the last year. Be there or be durst this Saturday as the L.I.T. team once again takes over the Corktown Tavern for what will certainly be the best free dance party since Uncle Grambo's 30th Birthday Bash. Robvs.


Oh, and if yr down with free dance parties (and who isn't???), there's no better place to be than The D™ this weekend. Not only will we be Dorkwaving til the breaka breaka dawn on Saturday, but don't forget that Betty Marie Barnes Is Turning 21 and will be celebrating at Oslo on Thursday. Not only will Richard Panic and Nathaniel Burgundy IV (both of Pas/Cal) be manning the wheels of steel, but rumour has it that Dorkwave's own Servito and Doyle will take turns kicking out the jams. Remember, sleep is for the weak.


SO. MUCH. BUZZ.

posted by Uncle Grambo |
---
Monday, April 11, 2005

Ferreals, this weekend was insane-icus. So much fun was had, so little sleep was revealed. Thems the breaks, yo. But of everything that occured in the last 72 hours or thereabouts, last night's festivities at the Stick were prolly the most blogworthy (and your Uncle Grambo means that the best possible sense). I think this has lot to do with the fact that boozing it up on a Sunday night is more often than not frowned upon by society. Combine the danger element ("Oooh, it's a school night and I'm getting DRUNK!") with that sweet, sweet feeling of Coors Light filling your belly, and you've got yourself the makings of a bovsworthy evening.

So there we were, the dollar beers were flowing like wine, and there was nary a French asshole to be spotted in the vicinity. Instead, the FOW Nation representin' at least a dozen deep, led by the likes of Damizz, Nummer, Big Matt, Ron Runs The City, Liz Noise Bursts, Le Emily (who took the photos at right, BTW), Dana Dane, Dutch, The Babe, and Tour de Josh. There were others, but their names were lost in a haze of dollar Miller Lites.

Aside from the rockstars that were being paid to play there last night, spotted in the building were none other than Jack White and Brendan Benson (fresh off a triumphant perf at the Blind Pig on Saturday, or so I hear). We even saw the lead singer of The Bravery hanging out by himself before the show; he was sitting in a corner and staring at his Mac laptop like some sort of mash-up between the lead singer of Stellastarr* and Kramer (from "Seinfeld", natch). Not a single soul talked to him or even looked in his direction; we were all secretly hoping that Jack White would beat the piss out of him, but their paths never crossed.

This was the third time that I've seen Ash over the years, and I've never heard them sound so muscular as they did last night. Although it took awhile to get used to the band's departure from the bouncy BritPop faves like "Girl From Mars" and "Kung Fu", "Meltdown" is one of those prototypical "grower" records that will get even more spins after seeing them live. In particular, "Orpheus", "Out Of The Blue" and the title track stood out as instant crowd favourites, getting as much bounce to the ounce as hits like "Burn Baby Burn" and "Shining Light." Sunday night shows ... some say best. Who knew? Especially notable: Tim Wheeler referencing Johnny Loftus' review of "Meltdown" in this week's Metro Times, pointing out the cowbells and sex resets before launching into "Detonator" last night. WORD!


After Ash played, a few of us congregated around the bar in search of Charlotte Hatherhottness; thanks to Dutch, we ended up chatting to her for a few. So, so best ... want to touch the heinie! While The Bravery set up, Damore and I shouted out the first of many Skabba The Hutt resets. Seriously, I have heard some shitty bands in my day, but it's been a long time since someone as audaciously soulless as The Bravery came through town. Yeeesh. They even had a song that sounded like a rip-off of "C'mon C'mon" (which, as we all know, is a rip-off of "American Pig"). Just like making a Xerox of a Xerox of a fax that was stepped on by an overweight administrative assistant, the amalgamation of The Bravery's influences have become completely and totally lost in translation. The result is with nothing less than a ruddy mess of musical durstosity. As they say in the bizz, NO BUZZ!


And with that, I made my way back to Hamtown. Others stayed and bowled with the likes of Tim, Charlotte, Rick and Mark, but I'm an old ass man and I needed my sleep. Robvs. That being said, it was a great night and your Uncle Grambo highly suggests catching Ash the next time they make it through your town, even if it's on a Sunday night. Mars.


Other items of note:


Kylie to close Glasto with a headline performance. Is there some sort of memo that I missed? I mean, I know all of the Pitchfork-type hipster doofuses loved "Can't Get You Out Of My Head" for the same reasons that they love Annie's "Chewing Gum" and Brit Brit's "Toxic" -- appreciating the merits of pop music is cool, but only if when laced with irony and undertones of mockery -- but how exactly do The White Stripes and Kylie fans end up at the same festival? After all the e's and whizz, you can bet yo arse that them there muddy fields are going to turn into the world's largest chemically fueled gay dance party. Not that there's anything wrong with that.


Speaking of Pitchfork, they're launching some sort of Hipster Snob Fest in Chicago this summer called the Intonation Music Festival. You guessed it, Fiery Furnaces and The Decemberists will headline. I'd rather get force-fed unflavored and uncooked tofu by a violent mob of vegan PETA freaks while being branded by curling irons than attend this festival of douchebaggery. Do me a flavor, however ... someone in attendance, please throw a rock and report how many pairs of horned rimmed glasses get broken with that one solitary toss. I've got $250 riding on the over/under of three.


The thing I love most about reading articles in the Sunday Times Fashion & Style section about "man dates" is that I know that I won't have to wait long for the scathing hilarity of a T-Muffle parody. As Nikka Costa once sang, everybody's got their something -- and this is certainly T-Muffle's something.


While we're getting our Bynes on, Amanda Bynes is slated to star in "She's the Man," a Dreamworks production that will reset Shakespeare's "Twelfth Night" for today's teens, "10 Things I Hate About You" stizz. [via Trixie, who also points us in the direction of a fascinating interview with Owen Glieberman]


DataWhat? breaks down the truth behind the lies of the recently revealed 93.1 Doug-FM, a radio station that brands itself as "an MP3 player on shuffle." I guess that would be accurate if your MP3 player is chock fulla white boy classic rock. This listener predicts that the novelty of hearing Bachman Turner Overdrive fade into "Picture" by Kid Rock and Sheryl Crow will wear thin pretty soon, but until then, it's worth a laugh or three to leave the station on for 10 minutes from time to time. Shmears.


And yes, for those that have been asking, I'm well aware of the Condescending Baggins (aka Mitch Al-Bomb) controversy. I haven't had time to properly comment, but in lieu of not having any free time for the next few days, here are my twenty two cents: With every passing day, it's looking more and more likely that unless Mitch falls on his sword and resigns (his lame-o apology went over like the proverbial fart in church) Freep editor-in-chief Carole Leigh Hutton is gonna fire his arse. Either that, or she's gonna have to update their Ethics Policy. Bovsnia.


Now, in the immortal words of Glenn Frey, the heat is on. Other nationally regarded newspapers like The Chicago Tribune are starting to inexplicably pile on (because of the long-standing feud that columnist Mike Downey has had with his old employer?), Freep readers are weighing in with their disgust (in Saturday's paper, one reader said that "Perhaps his next book should be entitled, 'The Two People I Didn't Meet at the Stadium.'") and this blogga is hearing that even Freep staffers are gloating in private at the impending demise of The Golden Boy.


Your Uncle Grambo will continue to keep close watch on this story, but until then, I'll leave you with this ... DEVELOPING!

posted by Uncle Grambo |
---
A lot of things happened this weekend. There were birthdays, weddings, barbeques and encounters with rock stars. However, let me assure you that NONE of them rocked your Uncle Grambo to the core like the revelation of BYNES BIKINI BUZZ! Big ups to Robair for alerting me to the events that occured during Friday night's episode of "WILAY", captured by the cappers at Superior Pics for all to revel in. BOW YOUR HEADS!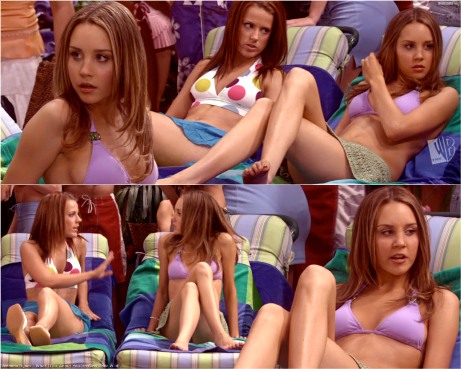 posted by Uncle Grambo |
---