Saturday, August 13, 2005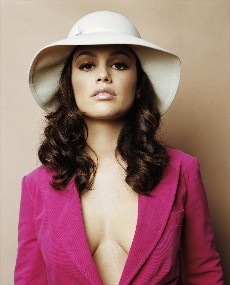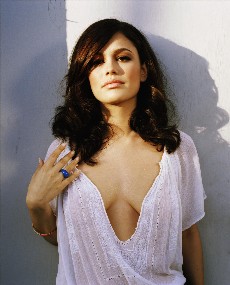 I mean, you know how much I wish that I had the free time to entertain all y'all? Believe me when I say that it pains a brotha like your Uncle Grambo to witness the celebrity blog explosion of 2005 from the sidelines (ESPECIALLY when I read that some of my brethren are pulling in over $2,600 a week to blog). I've been logging 60+ hours a week of late, slaving for the man out here in the hinterlands they call The D™. Don't get me wrong, things are going quite well both on the homefront and at the office, but to call the year 2005 anything other than challenging would be a boldface lie. If you're even the least bit familiar with what's going on here in The D™, I think you'd agree.

So, without resorting to ranting and raving like a whiny beeyatch, I'd just like to thank you for your continued patience and patronage. I don't see that there will be a return to the posting frequency of 2K4 anytime soon, so don't go getting your panties in a bunch if I drop off the map for a few days (or weeks) at a time. Just know that I still love you, even if you don't love me.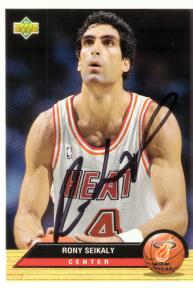 But honestly, even though I continue to disappoint you by not paying you the kind of attention you deserve, I know deep down in your heart of hearts that your loins continue to burn with the old passion and fire when I drop the PHC with the funkyfresh style that you're used to. Where else are you going to read the hott dirt about topics as varied as Rony Seikaly's excessive partying and secret 7-Eleven upskirt cams in Clinton Township? Nowhere, that's where!

Jack Abramoff? But I hardly even know him!

Thanks to everyone who took the time to go out and vote for The Prime Ministers during the second round of The Detroit News sponsored Sonic Summer contest. Unfortunately, the foursome were totally jobbed at the last second by members of The Paper Street Saints and missed out on fourth place by a few hundred votes. You see, The DetNews didn't have the technological acumen to prevent voters from voting multiple times, and The Paper Street Douchebags took full advantage of this loophole in the contest rules by voting over 500 times during in the last 15 minutes of the contest. How do I know that? Well, The PMs held lead of 0.3 percentage points at 11:45 AM yesterday. Yet by 12:00pm when the contest closed, the PMs had lost their lead. Some say worst computer fraud evs, especially considering that The News received over 137,000 votes this round. What The Snooze fails to disclose is how many of those votes came from the same IP address. Durst.

Do chuggers bother you when you want to rock up to a restaurant with your cockapoo to hoover a supersized ruby murray? All this, yet still no obvs. And what person in their right mind would choose to hoover supersized ruby murray over Alfie? Snarf snarf!

Zombie or redneck? At movie theaters this summer, sometimes it's tough to tell the diff. [via Trixie]

Trouble in Hipsterville™! Has Betty Marie Best Ever dropped out of the DJ collective known as We R DJ? Her name no longer appears on the Werdj home page ... DEVELOPING!

Curt Guyette of The Metro Times has an excellent breakdown of the blockbuster Detroit newspaper swap-a-roo of Summer 2005. Scary times, scary times.

"I grow weary of your sexually suggestive dancing ... bring me my ranch-dressing hose!"

In case you missed it, your Uncle Grambo was recently interviewed by none other than Chris Handyside. And in case you're wondering, yes, I will be bad mouthing him in the British press very, very soon.

And finally, the heavily anticipated Anger Management 3 Tour rolled through The D™ last night. Your Uncle Grambo has talked to a handful of people today who were at the show, none of whom left either impressed or feeling like they got their money's worth (see The Grizz's ballsy review in today's DetNews or Gary Graff's equally impartial take in The Oakland Press). Yet, for some bizarre reason, Brian McCollum of The Freep lauded the show in a front-page review this morning, calling it "one of those nights where you didn't need the fireworks finale to prove that you were part of something mammoth and noteworthy." Yes, the same Brian McCollum who printed the absurdly ridiculous front-page story about a month ago proclaiming that Eminem was on the verge of retirement. Confused? You shouldn't be. After all, McCollum's refusal to accurately report the audiences' bland reaction to the show finally proves what I've suspected for the last few weeks — McCollum is nothing more than a stoogified shill for Em and Paul Rosenberg.

Think about it. Six weeks ago, do you know ANYONE who was talking about Eminem? Although your Uncle Grambo was an admirer of "Encore", I can't remember the last time I played any of his records. I never even considered shelling out $50 bucks for a ticket to his concert; this feeling was clearly shared by the ticket buying masses across the country. The Anger Management 3 Tour was languishing with a huge percentage of unsold seats, and it seemed that America had finally cooled their hot and heavy relationship with all things Shady. That is, until the aforementioned McCollum article -- filled with quotes from Em's manager Paul Rosenberg, mind you -- hit newsstands. All of a sudden, rumours of Em's pending retirement sent shockwaves through the music industry and Marshall Mathers once again was grabbing international headline buzz (including a story in Rolling Stone). The public responded in kind, snapping up tix for the tour. And everything was once again happy in Shadyland.


So, was all this a coincidence? Was McCollum hoodwinked by Interscope? At first, your Uncle Grambo thought that must've been the case. After all, here was a reporter with a history of being less than stable, looking to make a bold leap back from the oblivion of his still unexplained absence from The Freep during most of `04. But after reading the review of last night's show, I changed my mind. His review read to me like something that Eminem's publicity firm would have produced, rather than the opinion of a seasoned music journalist. I'm still a little dumbstruck by this, as I've read McCollum for years and always trusted his opinions, even when I disagreed with them. But now that trust has been broken, at least when it comes to anything Eminem related. But at this point it's clear that his relationship with the Mathers camp is more important to him than presenting the "truth" to the citizens of the city of Detroit. The fact that this was an opinion piece bears no relevance when it's so patently obvs to any discerning reader that Brian McCollum is nestled comfortably in the pocket of Paul Rosenberg. Think about it for a second and then tell me I'm wrong! Thought so, yo. Bovs on your respective tees.

posted by Uncle Grambo |
---
Monday, August 08, 2005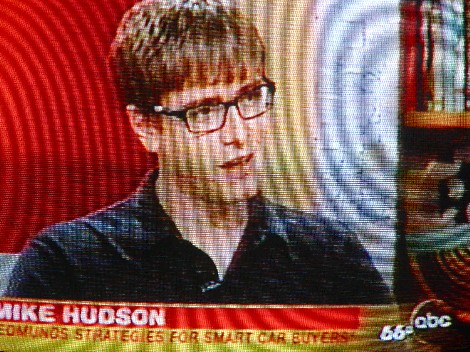 When was the last time you appeared on "Good Morning America"? Sure, you can't flip on the ole digital cable these days without stumbling across some blogger trading barbs with a low-level douchedigger on MSNBC or quipping the light fantastic on "VH-1 Presents: Inside E.G. Daily's Handbag." But network air time? That's another can of Progresso entirely!


Which is EXACTLY why your Uncle Grambo would like to congratulate an old friend, Mike Hudson (aka M. Hudson Hawk), for scoring an appearance on Good Morning America this weekend. You see, Hud's been down with whatevs.org since Day 1; to this very day, the ex-Detroiter continues to show propers, despite currently residing in the 90027. It's always good to see good things happen to good people, so a hearty plate of big ups go out to the former DetNews staffer who's making MAD headway over at Edmunds. BOW!

posted by Uncle Grambo |
---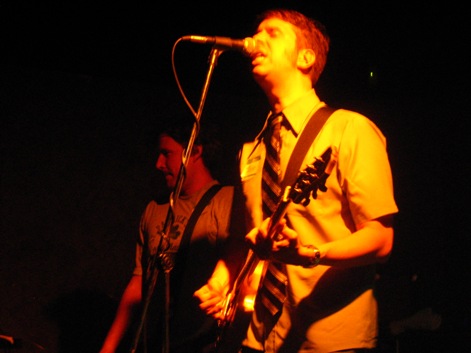 Have you heard? Voting has just begun for Round 2 of The Detroit News' Sonic Summer contest. Among the ten finalists this week are The Prime Ministers, the area's premier purveyors of power pop. Their last full length LP, "The Prime Ministers Go For Glory", is probably the best record you've never heard. And while the band is finally starting to gain some well-deserved positive momentum (appearing in last week's Metro Times, playing in front of a capacity crowd last Thursday night at The Garden Bowl, getting invited to perform at this spring's International Pop Overthrow festival in Chicago), the band needs your help now more than ever.


How can you help? Click through RIGHT THIS VERY SECOND and vote for The PMs — it's your civic duty and won't take but a sec. If you're the type who takes their voting seriously, be sure to download their single, "Bored Again Kristin"; that is, as long as you don't mind having your face melted by the sheer besteverness delivered via the MPEG-1 Audio Layer 3 format. Lest you think this is just a a popularity contest, just IMAGINE what Todd Wicks and the rest of The Ministers could do with twelve hours of studio time at the immaculate Effigy Studios! Tell your friends, tell your enemies, tell your lovers ... any and all votes will be welcomed.


And for those looking to rock live, check out The PMs as they tear the roof off the mothasucka during a live performance this Friday night, August 12, at Detroit's famed 313.jac (aka Jacoby's). Last time they played that venue, Kirk Gibson was spotted pumping his fist during "Four Stars"! I shat you not, yo. So VOTE TODAY and we'll catch you on Friday. Javes.

posted by Uncle Grambo |
---