Friday, February 24, 2006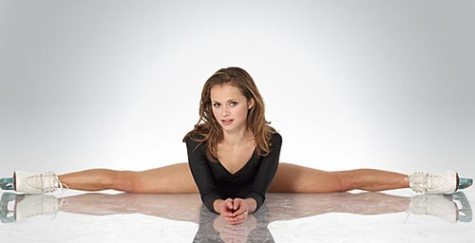 Color your Uncle Grambo perplexed. If I am to believe the refrain that Olympic color commentators repeat ad nauseum -- namely, that "these athletes have been training their whole lives for this moment" -- then what the fuck is up with all these ice skaters repeatedly falling on their asses when it's their moment to shine? I don't get why ice skating is any different than any other profession that involves pressure-packed performances in front of scads of people. In fact, if you think about it, it should be EASIER.

First off, because it's an individual sport, ice skaters don't have to worry about compensating for the mistakes of anyone else (ie, having to up your game because you've got less-talented teammates). Secondly, and unlike other individual sports like tennis, these bitches aren't physically competing against anyone during the time of their performance — it's not like Serena Williams is gonna get all up in your grill and knock your ass to the ice while you're doing a triple toe loop. And third, they're presumably sober during their competition (well, unless your name starts with Oksana and ends with Baiul); after all, your Uncle Grambo could make a compelling argument that it's physically harder to nail the lead guitar solo in "Eruption" than it is to jump in the air without falling, and Eddie Van Halen has performed the former thousands of times while smoking multiple cigarettes AND being drunk off his ass on Jack Daniels! So what gives?

At the end of the day, your Uncle Grambo thinks that society is the problem. We've built up female figure skaters to be the living embodiment of feminine grace and style. When, in reality, the only people who can PHYSICALLY succeed at this sport are freakishly small teenage girls who, in all likelihood, haven't even grown any grass on their playing field (if you catch my drizz). So is it really surprising that when we put the weight of the world on what is arguably the single demographic LEAST equipped handle the pressure that these girls fail? In the cold light of day, look yourself in the mirror and try answering anything other than "Not really." Thought so. Face facts folks, the days when the likes of Katarina Witt and Dorothy Hamill ruled the ice are as long gone as the time when the Olympics actually mattered.

The Grizz has pounded the pavement so you don't have to. In today's DetNews, he reveals that Chris Martin spent his time in Birmingham wandering the aisles of Todd's Room.

"So you've had men ejaculate in your face?" — Oprah

Matthew Sweet + Susanna Hoffs = a total popalicious cream dream. [via Scott Stereogum]

When you hit the record stores this weekend, be sure to pick up the new EP from The Holy Fire, "In The Name Of The World" ... yes, the band that you first heard about right here on whatevs.org back in October 2004 have laid down six glorious songs with producer Michael Ivins (Flaming Lips), and the results are just as dazzling as you'd expect. Be sure to catch this red hot band on March 1st as the headline the Metro Times Blowout Launch Party at the Majestic, or at SXSW on St. Patty's Day.


Um, maybe I missed something, but since when can you say "sack up" in a family publication? The Freep's own Drew Sharp used that very phrase in a column he wrote today on the recently freed Darko. Since this one cleared the editorial staff, look for Drew to incorporate "tea bagging" and "You can New Jack Swing on my nuts" into future columns on Tom Izzo. Mars.

posted by Uncle Grambo |
---
Thursday, February 23, 2006


[pic by Thomas Sly]


Chris Martin wants you to be okay.


Really, he does. During Coldplay's stop last night at The Palace Of Auburn Hills, Mr. Paltrow asked the audience on no less than five occasions whether or not we felt okay. Not "Are you having fun, Detroit?", not "Are you good and drunk?", not "Don't you wish YOU were banging an Oscar winner?" Nope, he just wanted to know if we were okay. And, to tell you the truth, we were.


As much as I love to hate those fookin' students, the fact remains that those motherfuckers have a shitload of hits. How many hits? Enough to play "Yellow" and "Speed Of Sound" as the third and fourth song of their setlist (respectively) and STILL have another octet of songs that the everyone in the audience of 20,000 sang along to without missing a beat. Yes, their cover of "Ring Of Fire" was awkward as balls and yes, their CGI pyro was probably the whitest thing I've ever witnessed, but your Uncle Grambo would be lying if I didn't say that I had a killer time and that I'm really looking forward to seeing them again at the end of March. Robvs.


Front runner for the all-time best evs wolf-related band name? AIDS Wolf.


So you say that Damon Albarn is doing a musical? Just name the time and the place and your Uncle Grambo is there like back hair.


The Gyllenhalls look like Picassos. [via People Paula]


"Affectionate and highly ironic, (VH-1's corporate) voice sounds a bit like a gentle imitation of Chuck Klosterman."


Do you want some cheese with that wine? No really, do you?


Here's the thing with this year's Sluts Illustrated Swimsuit Issue ... their lack of imagination is making me thirsty. The Heidi Klum wearing ONLY body paint thing would've been hot-to-go oh, say, four years ago. You know, before she got the deep dickin', Seal stizz, and squeezed out a bratwurst (SOMEONE GOTSTA GIVE IT UP FOR THE TRIPLE ENTENDRE!). And the All-Star Reunion would've been much hotter if they didn't gank the art direction from Demarchelier's Vanity Fair spread last April.


Wanna know how to fix it? Much like V-Fair did with Tommy Ford on this year's Hollywood issue, bring on a guest editor to spice up your life. Say, for buffalostance, your Uncle Grambo. Instead of trotting out tired ass tsunami tarts like Petra Nem-stroke-a and coozeariffic cokewhores like Bridget Hall, I'd snare hott semi-undeground bitches like Keeley (NSFW) and Haley Paige (also NSFW) to do spreads (pun intended). Instead of staring at four pages of Maria Sharapova's manface, I'd get Sante D'Orazio to shoot Michelle Wie and Paula Creamer at Pirate's Cove. And for my obligatory ex-"RW" babe, I'd dump Ace's ex pin cushion Mallory Keaton Snyder and recruit RWNY's Lori Trespicio to come out of retirement ... obvs, she's the most underrated Bunim-Murray babe of all-tizz. As much as I commend Diane Smith (the editor of this year's issue) for introducing us to the hottness that is Aline Nakashima, tell me you wouldn't rather spend your hard-earned six American dollars on an issue edited by your Uncle Grambo. Of course you would. Bow.

posted by Uncle Grambo |
---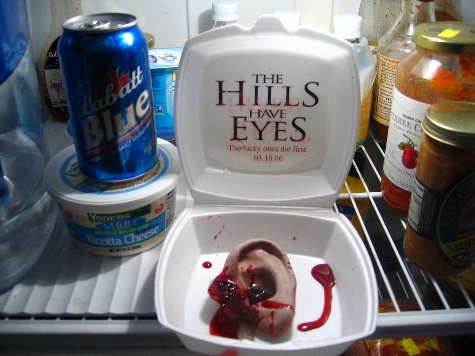 So sayeth The Senator, "Homicidal desert-dwelling nuclear mutants are the new zombies." Coming from the High Priestess of Zombiehood, this spells good things for the March 10th release of "The Hills Have Eyes." If the movie is even 1/8th as best evs as the bloody disgusting severed ear swag (pictured above) that was delivered to your Uncle Grambo earlier today, it's sure to go down as the best horror movie of 2006. Remember, the lucky ones die first.

posted by Uncle Grambo |
---
Wednesday, February 22, 2006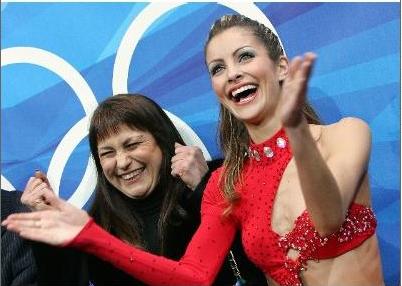 What's the over/under on the number of voicemails that Hef has already left for Olympic hottie Tanith Belbin begging her to out-slut former ice queen turned pin-up Jamie Salé and appear on the pages of his stagnant skinrag? Let's start the betting at 112.


Your Uncle Grambo has been a busy little bumblebee over the last 10 days or so. That said, I'll be sure to drop in for a little PHC refresher course sometime between the time that Fiona Apple hits the stage at The Palace tonight and tomorrow's first sunlight. Until then, may the bovs be with you.

posted by Uncle Grambo |
---